Home > Gallery > Thoughts Along a Winter's Walk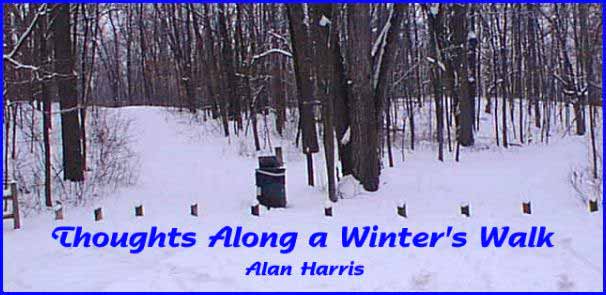 If snow-covered trees put you into a contemplative mood, join me in a walk through this Illinois forest in January. The commentary accompanying the 17 scenes ahead is free musing, each scene's topic being different from the previous one.

To proceed forward or backward a screen at a time, click the right or left arrow button. Clicking beyond the final screen will take you back to the Gallery menu.

Photography by Alan Harris
using an Epson PhotoPC-500 digital camera
Location: Lyons Forest Preserve, Yorkville, Illinois
January, 1998
Photographs and text by Alan Harris. All rights reserved.
Other Photographic and Literary Works by Alan Harris

Quality - 11 Glimpses
Poetic aphorisms and photos which suggest
or describe quality, but never define it.

Framed Nature Photos
A virtual gallery containing 24 forest and sky
photos complete with frames and titles.

Double Vision
Blends of two photographs for
a deepened visual sensation.

Grandstand Fantasy
Reflections of mind and sun on the potentialities of an
empty grandstand

Trees without Talk
Old trees near the Fox River in Illinois speak their own
language of life and light in these captionless photographs.

Angels of the Sunset - For Those with Open Hearts
Poem and photos offering suggestions of angelic presences at sunset.

Asking the Quiet Fire - The Forest As Teacher
Photographs of an autumn forest accompany questions
asked of the forest, and its answers

Peace - Its Inner Hiding Places
Photographic essay set in an Illinois forest in September

Bunga Rucka: A Chant
A "chant from underneath" with photographs of canyons

Collected Poems
More than 200 poems that look within, without,
and every which way

Stories and Essays
Meditations, meanderings, and yarns with undertones
of seriousness and overtones of humor

Thinker's Daily Ponderable
A daily dose of intriguing and/or humorous observations,
with free e-mail subscriptions offered.

Christmas Reflections
Out-of-the-ordinary poetic probings into the
spirit of this potent holiday

Heartplace - Journeys through the Center
Launched in 1999, this growing literary site publishes writings,
mostly poetry, submitted by authors from many parts of the world.

Garden of Grasses: Literary Unveilings
Over a hundred previously unpublished poems, essays,
and short stories submitted by talented writers since 1996