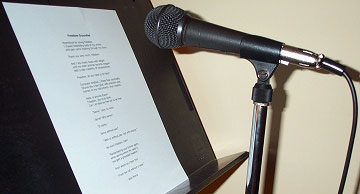 Most of the audio poems offered in this site are read by me (Alan Harris), while sixteen have been performed by Paul Meier (bio), who is a good friend, professional actor, and dialect coach. All readings are easily found in the Index of All Audio Readings. I'm very grateful to Paul for his time and effort in recording his readings.

My son Brian J. Harris (bio) has composed, performed, and recorded a voice/percussion chant, Bunga Rucka, based on my 1995 poem of that same title. He also created San Pellegrino, a "found sound" recording made from San Pellegrino soda cans. His recordings are offered here in MP3 stereo.

I have included my musical composition entitled Father, How Can I Hear You?, subtitled "A Song of Renewal," as performed by soprano Martha Baumann, alto Pat Lundy, and pianist Linda Harris (my wife).