Bio of Keith E. Harris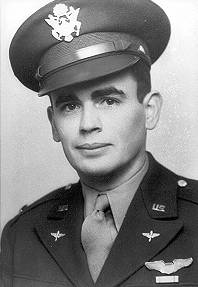 Keith E. Harris in 1942
Born on October 13, 1919, Keith E. Harris (father of Alan Harris) was raised on a farm 5 miles east of Earlville, Illinois, a small farming community of about 1,400. His parents, Robert and Theda Harris, farmed the family land until their sons, Robert, Jr. and Keith, took over the farm. Keith's sisters were Dorothy and Phebe. Keith attended a country school through eighth grade, and later graduated from Earlville High School in 1937. He was married on April 18, 1941 to Margie, and they eventually became parents of four children: Alan, Kathleen, Donald, and Dale.
In 1940 Keith enlisted in the (then) Army Air Corps (his scrapbook), and his account of the ensuing year, which included working as a Link Trainer instructor at Elmendorf Field in Alaska, can be read in his story entitled Air Force Odyssey before Flying B-17s. During the time he was in Alaska, World War II broke out with the Japanese bombing of Pearl Harbor, opening the way for him to take basic pilot training in California and then B-17 training in Spokane, Washington. His 390th Bomb Group was stationed in Framlingham, England, from which he piloted a total of 25 bombing missions over Germany and other European countries. The odds of surviving 25 bombing missions unscathed in 1943 were formidable. Keith vividly describes his experience of the Munster mission in his story entitled The 1943 Munster Bombing Raid.
In 1945 Keith returned to the States and began training B-29 pilots. But since the war was then ending and B-29s were not seen as needed, he was soon assigned to Clark Field in the Phillipines. That assignment being not much to his liking, he opted for a discharge from the Air Force in 1947 with a rank of Major.
Keith then rejoined his family in Illinois and resumed farming with his father and brother. In 1948 he and Margie bought a large home in Earlville, the better to raise their expanding family.
Having always had a good rapport with children, he took a position as school bus driver for the Earlville schools, a part-time job which he dovetailed with his farming of 200 acres. He managed this vocational combination for the next 30 years.
Keith enjoyed woodworking in his basement. He grew especially fond of building grandfather clocks, one of which he built for each of his seven grandchildren, plus another twenty or thirty for friends and relatives around Earlville.
He had a mechanical knack for fixing things. If a neighbor child would bring him some broken toy, he would reassure, "I can fix anything but a busted balloon." and then fix it. On the rare occasion when something just wasn't fixable, he would shake his head and say, "This is a busted balloon."
Margie, Keith's wife, was an able mother, cook, and housewife in addition to serving as librarian at the Earlville Public Library for over twenty years.
At age 59, Keith found that he had a brain tumor, and despite heroic trips to Mayo Clinic in Minnesota, he passed away on November 3, 1980 at age 61.
---
Listed below are pages devoted to Keith E. Harris within this site: